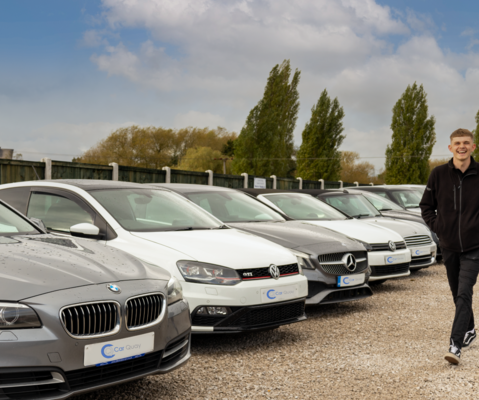 Great deals on used cars in Derby
If you are looking for great savings on quality used cars in the Derby area, then you have reached the right place. Car Quay Ltd are a specialist used car dealer based in Derbyshire. We are proud to offer you a first class customer service and very competitive pricing, so please browse our stock list. At Car Quay Ltd, we stock a range of used cars to suit all budgets and lifestyles so we are sure to have the right car for you.
If you are looking for a second hand car in Derby, then don't delay, call us today. In order to offer cars to suit everyone we make sure that we update our stocklist regularly. It is therefore always worth giving us a call, even if you don't see what you are looking for on our website.
We offer advice on vehicles and vehicle maintenance and our friendly staff will go the extra mile to guarantee that you receive the advice and support you need.
At Car Quay Ltd we don't just sell cars, we do everything possible to get you on the road with your perfect vehicle. Why not come along to our dealership in Derby? We look forward to meeting you!
October 2021

2021's Bangers4Ben charity rally was confined to the UK due to the ongoing pandemic, but that didn't stop it from being a huge success! We travelled across some of the very best driving roads in the country in a modified MGTF, and as the theme was Best of British, we decided to celebrate the rich musical talent this nation has produced over the years with our Top of the Flops branded banger. Every year we head out on the road to raise both money and awareness for the motor trade charity BEN alongside 49 other teams, and cover thousands of miles in modified bangers that get auctioned off upon our return; all the proceeds go to the charity itself. At the end of the run, there are prizes awarded for the best vehicle, fancy dress, social media and a special judges award too. This year we won the best fancy dress award, and we have so far raised over £6000 (with more to come in due course) and we're very grateful to all who have generously donated to the cause.

May 2021

We were thrilled to be the recipients of the inaugural Extra Mile Award from Motonovo Finance, one of the leading car finance providers in the UK. This award is a new initiative from Motonovo to reward and celebrate their very best dealers - ones who truly embrace going the extra mile when it comes to the customer journey. They made particular mention of the changes we made to our sales process during the pandemic, and how we embraced the new ways of selling and delivering vehicles as one of the reasons for winning the award. Our consistently high review scores over a variety of different platforms helped too! We're very proud to be one of the first winners of this award and look forward to working closely with Motonovo to offer our customers industry-leading finance packages with very attractive rates and terms.

February 2021

Car Dealer Magazine's 2020 Used Car Awards were delayed, but for us it was definitely worth the wait. Once again, our very own Jamie Caple was up for the prestigious 'Dealers Dealer of the Year' award, but more importantly we were in the final three for the 'Used Car Dealership of the Year' award - and we won! To receive this incredible award after a whirlwind 12 months was testament to the extreme hard work and dedication from every member of our amazing team, and to the support of our incredible customers.

October 2020

In October 2020, we were thrilled to announce that our very own Jamie Caple had been awarded the prestigious 'Rising Star' award at the high profile AutoTrader Retailer Awards. A combination of factors contributed to this win, including the steps taken to build Car Quay since 2017, and also for the support and help offered by Jamie to the wider industry during challenging times at the start of and during the pandemic. To receive this recognition during such a challenging period was a huge honour for Jamie, and for the wider business. It was also further proof that hard work and helping others leads to great things happening.

April 2020

With the UK in lockdown, we closed temporarily to get our bearings, before officially reopening our business for click and collect and home delivery sales only. With a fully stocked digital showroom, we guided lots of customers through the process of purchasing a vehicle from us during these unprecedented times.

December 2019

As our team grew and the volume of vehicles sold increased, we decided to maximise the space in our main showroom by installing a large mezzanine area. Whilst this initially caused a lot of disruption on-site, it has created a fantastic space not only for our team but also for our customers when they visit us. We now resemble something more akin to a conventional car dealership, with desk areas for three team members, plus a seating area for customers. There's entertainment and refreshment on hand too. We welcome anyone into our business, even if they're simply having a look, so if you're in the area and want to pop in please come and say to the team!

November 2019

At Car Dealer Magazine's Used Car Awards 2019, we were proud to receive industry-wide recognition for our efforts in the world of used car retail. First, we were awarded the prestigious 'Newcomer Dealer of the Year' award, a hotly contested category; we beat some incredible rivals by winning this prize. Industry and TV legend Mike Brewer presented the award on stage to our team, and we are incredibly proud to have received this prestigious accolade. Later on that evening, our owner and founder Jamie Caple won the 'Dealers Dealer of the Year' as voted for by others in the industry. This was a very special moment for Jamie, having established the business in tough conditions back in 2017; to be nominated and voted for by his industry peers was a truly memorable event that will stay with him forever. Having only been in business since 2017, winning both of these awards shows just what can be achieved through hard work and looking after your customers. We're now hungry for more awards - let's see what the future can bring!

October 2018

To support the amazing motor trade charity BEN, we took part in their annual banger rally, 'Bangers for Ben', held to raise money and increase awareness of their fantastic organisation. BEN offers help and support to those in the industry who are suffering hard times. The aim of the trip is to spend up to £750 on a banger, and then dress it (and ourselves) up and cover 2,500 miles across Europe over five days, raising as much sponsorship money as possible. Once back in the UK, the vehicle is auctioned off, and all proceeds go to BEN. We adopted a Fast and the Furious theme for our car, and we managed to win the prestigious Top Gear award for our vehicle! With the vehicle subsequently sold we raised nearly £5,000 in total for BEN and will be definitely be looking to partake in this experience again in the future.

June 2018

By June 2018 we were in the throes of constructing our own on-site vehicle workshop. As the volume of vehicles we supplied had begun to dramatically increase, it was (and still is) important for us to keep a keen eye on the preparation of the cars we sell and take it on in-house as opposed to outsourcing the work. We committed to installing multiple ramps, as well as the latest diagnostic equipment to ensure that our vehicles are driven away in the best mechanical condition possible. We ensured we have all the tools necessary to maintain the high standards we hold ourselves to, and meet and exceed the expectations of our lovely customers.

December 2017

We began to sponsor PDC darts legend James 'Jammie Dodger' Wilson, and saw him make it through to the last 32 of the Worlds Darts Championship live on Sky Sports. James is a fantastic, hard-working and talented sportsman with great commitment to his craft - and he never stops smiling! We're thrilled to be represented on his shirt and we wish him every success.